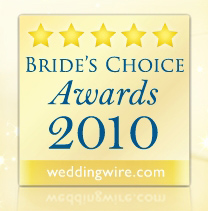 I received notification yesterday that the folks over at the Wedding Wire website has select me as one of their Bride's Choice Winners for second year in a row.  I've been fortunate enough to have clients who have gone out of their way to share their experience with me on the Wedding Wire website.
The annual Bride's Choice Awards recognizes and celebrates excellence in quality and service within the wedding industry, as determined by recent reviews and extensive surveys from over 500,000 newlyweds.
Schiemer Entertainment is among the top five percent of all vendors in the WeddingWire community, which includes over 100,000 wedding professionals across the US and Canada. Awards were given to winners across 19 different service categories, from wedding venues to wedding photographers.
I would like to thank my past newlyweds for nominating me for the 2010 Bride's Choice Awards.  Click here to read some of the generous reviews I've received.