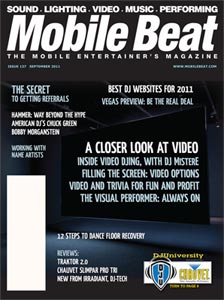 I'm thrilled, and extremely pleased that the editors of Mobile Beat Magazine have chosen my website as the best DJ blog in the country for 2011.  It's such a thrill to be acknowledged for doing something that you just love doing.
Here's what they had to say:
"Using a unique approach, the homepage for this company is a blog. There is content on the rest of the website, but the home page is almost entirely made up of a blog. Like most DJ blogs, it has pictures from recent events, along with some other little tidbits of information. What makes this stand out is a great overall design of the website, amazing pictures, and a short wrap-up at the end of each wedding blog. Not only does content like this really draw a prospective client in, but it also does wonders for helping your website in the search engines (if done right, which this one is)."
I love working on my website since it showcases how special and unique every wedding can be.  Even more than that I love being able to look back on some of the most amazing and fun times I've had been lucky enough in which to play a part.  My thanks to Mobile Beat for noticing!