No matter how diverse a bride and groom's styles may be, the combination of the two can make their wedding day wonderfully special and unique.  Angela and Jason combined tastes of Persia, England, and Pittsburgh for their big day at the Montour Heights Country Club in Moon Township, PA.
The reception was held on the terrace under a beautiful tent.  Their choice of colors and decorations helped make the space feel intimate and elegant.  I was able to provide a monogram on the ceiling above the dance floor which not only looked great, but helped light up the dance area later in the evening.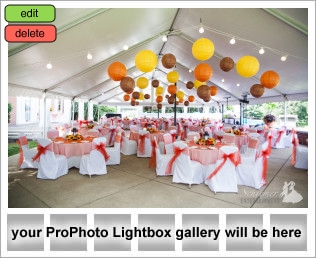 Angela and Jason took great care in choosing music for their celebration. Their choices of Iranian, American, and English artists made a marvelous variety for everyone to enjoy.  I had the best time watching their guests crowd the dance floor and cheer happily before the couple headed off for their honeymoon in Maui.